General
Home
News
About

ER 2010 Website

ER Website

Contributors
Peter P. Chen Award 2009
Camera-ready submission
Call for Papers
Call for Workshops
Call for PhD Colloquium
Call for Posters and Demos
Call for Panels
Call for Tutorials
Manuscript Preparation
Conference
Conference Program
Keynote Speakers
Accepted Papers
Workshops
Posters and Demonstrations
Panels
Tutorials
Conference Committee
Program Committee
Participants
Registration
Venue
Travel Information &
Invitation Letter
Accommodation
Attractions
Maps
Transfers & Optional
Activities
Weather

Miscellaneous
Publicity Materials
Contact
Sponsors
Accommodation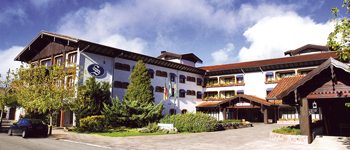 Hotel Serra Azul Address:
Rua Garibaldi, 152. Gramado - RS - Brazil
Phone: +55 (54) 3295 7200
Fax: +55 (54) 3295 7272
ER 2009 will take place at the Hotel Serra Azul

, a traditional and well equipped hotel, with a conference and exhibition center for 1,100 people, high speed Internet, swimming pool, sauna, lounge with fireplace and other features. The hotel is located downtown, near everything: central church, banks, restaurants, cinema and other main attractions of the city. There will be available rooms at the symposium hotel at a promotional rate for ER 2009 participants (you should mention it when making reservations). Easiest way to book is by filling out the form available here

.
After sending your online booking form, you will receive an email from the hotel with information on room availability and rates (with special rates for the conference). This email will also ask for the room type and payment details, which can be informed by fax or email.
After receiving your fax/email, the hotel will send you the confirmation of the booking.
You may also book the transfer from Porto Alegre's International Airport to Gramado using the same booking form. The round-trip costs R$ 120.00 and includes a city tour in Gramado. Transfers and tours are managed by Terra Turismo.