General
Home
News
About

ER 2010 Website

ER Website

Contributors
Peter P. Chen Award 2009
Camera-ready submission
Call for Papers
Call for Workshops
Call for PhD Colloquium
Call for Posters and Demos
Call for Panels
Call for Tutorials
Manuscript Preparation
Conference
Conference Program
Keynote Speakers
Accepted Papers
Workshops
Posters and Demonstrations
Panels
Tutorials
Conference Committee
Program Committee
Participants
Registration
Venue
Travel Information &
Invitation Letter
Accommodation
Attractions
Maps
Transfers & Optional
Activities
Weather

Miscellaneous
Publicity Materials
Contact
Sponsors
Venue
Gramado is a small touristic town to the southeast of Caxias do Sul and east of Nova Petrópolis in the southern Brazilian state of Rio Grande do Sul (view map). This mountainous and Germanesque region is known as the Serra Gaúcha. The majority of Gramado's inhabitants are German-Brazilians. Gramado is one of the towns along the scenic route known as Rota Romântica

. The town is also part of the scenic Região das Hortênsias

route.
Gramado hosts the Festival de Gramado

, a major South American film festival and Gramado's most important event. Gramado is also known by hydrangeas blossoming in late spring. Another key event in Gramado is Natal Luz

, when Gramado is decked out in lights and wreathes made of recycled plastic bottles. Though this may sound odd, the result is very attractive decorations that don't require any water. Natal Luz sports high levels of community involvement, as majority of decorative devices are crafted by local residents in a voluntary job.
ER 2009 will take place at the Hotel Serra Azul

, a traditional and well equipped hotel, with a conference and exhibition center for 1,100 people, high speed Internet, swimming pool, sauna, lounge with fireplace and other features. The hotel is located downtown, near everything: central church, banks, restaurants, cinema and other main attractions of the city. There will be available rooms at the symposium hotel at a promotional rate for ER 2009 participants (you should mention it when making reservations).
Transfer booking and purchasing are included in the hotel reservation form as an option. The transfer is provided by Terra Turismo at any arrival time. It will not be possible to buy this transfer service at the airport.
From Salgado Filho Int'l Airport to Gramado (and return):
From Porto Alegre to Gramado, the maximum waiting time in the airport should be 1 hour. On the return to Porto Alegre, the departure from the hotel will be 4 hours before the flight. The fare per person is R$ 120,00 (~U$ 72.00).

Click here

for more information about transfer booking and purchasing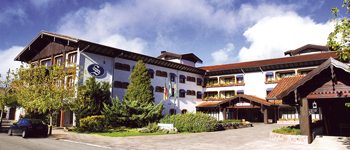 Hotel Serra Azul Address:
Rua Garibaldi, 152. Gramado - RS - Brazil
Phone: +55 (54) 3295 7200
Fax: +55 (54) 3295 7272
See also: